FCS 54X3W LED PAR RGBW $149 each Delivered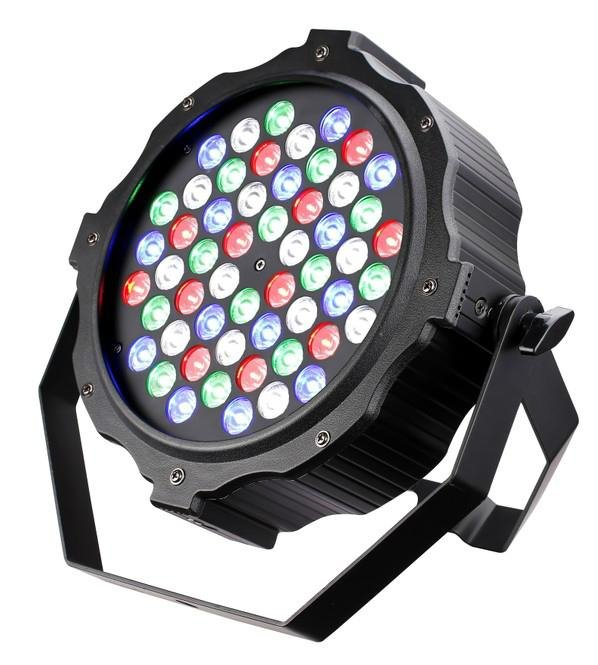 1.5Amps Draw Per Light
I've been using/selling these 54x3W indoor par lights for the last 15 years.
I can't tell you how much money I wasted trying other LED lights before I landed on this one. Another learning curve on the import thing is; a product arrives working and looking great. In six-eight months, it slowly begins to die. Again, a lot of money blown prior to this product. I've sold easily over a thousand of these lights. I've replaced 4. The rest are all still working.
Here's what I was looking for. First off, a light that would replace a 600W+ Par64. Next, put together well, not Mickey Mouse, roadworthy, and hold up (for a long time) on and off trucks, night after night. My sound guys are kind of rough on cases at 3 in the morning. Next, daisy chain electric and DMX control together. External AC cables not built in. The lights with AC cable built in went to hell in about 6 months of use. I also wanted a LOT of lights to travel in truck pack style road cases.
I use these on all our indoor shows. The tent picture - a fellow sound co used two in each corner of the tent.
This is a pro light guys. You're thinking, I can buy the same power for way less. Yep. But, my lights will be working long after yours start flickering, AC cable falls apart, some colors stop working etc. A great number of sound companies have purchased these lights for all of these reasons.
How many do you need? If I'm doing a small stage, say 24x16. I'll hand 6 across the front for a total wash. As many as you want in back for flash 'n trash. If we're using stands indoors on the same style stages we go 4 a side.