FCS-15PW Active Dual Concentric Wedge w/DSP /
$1425 Each Delivered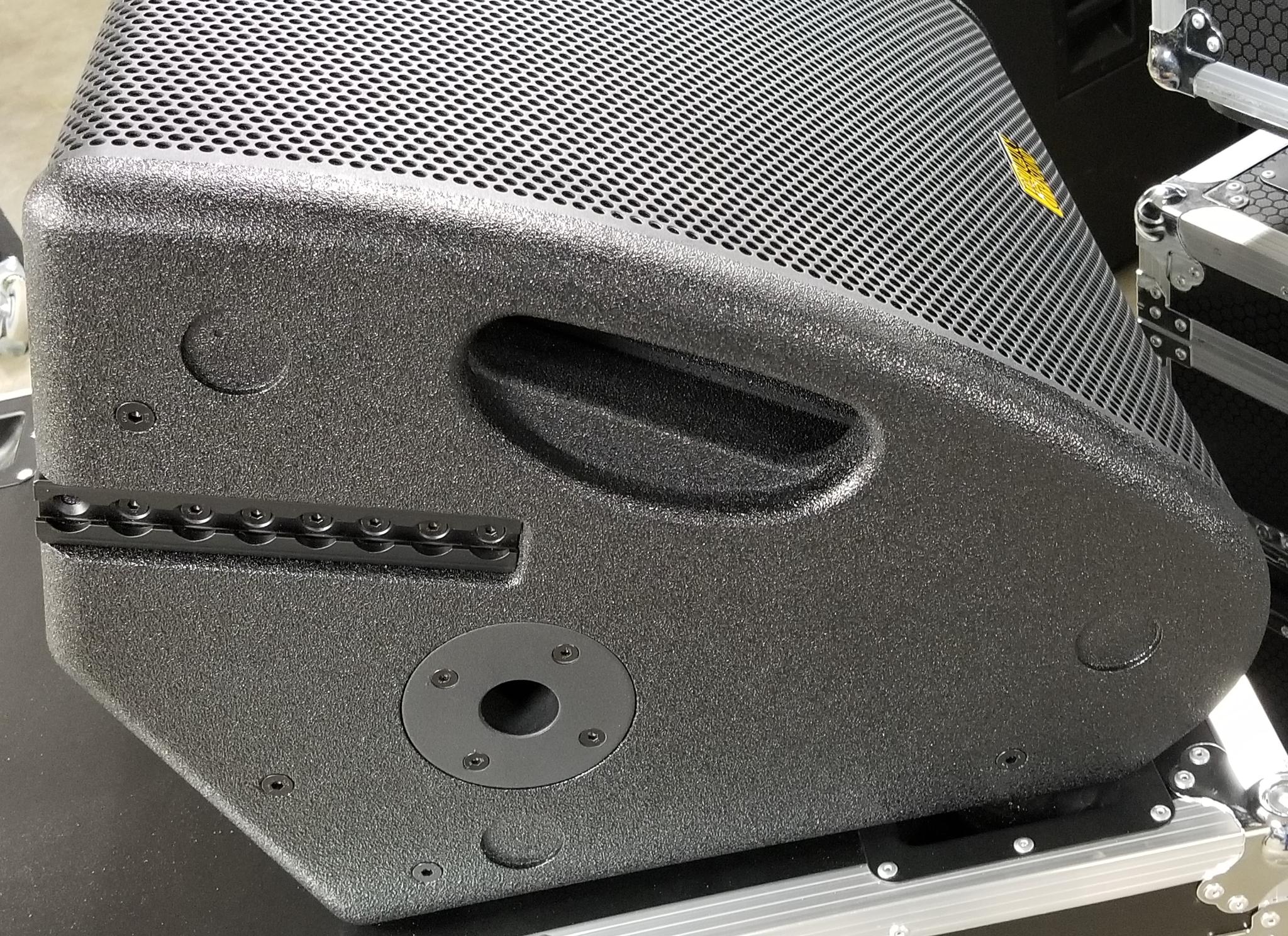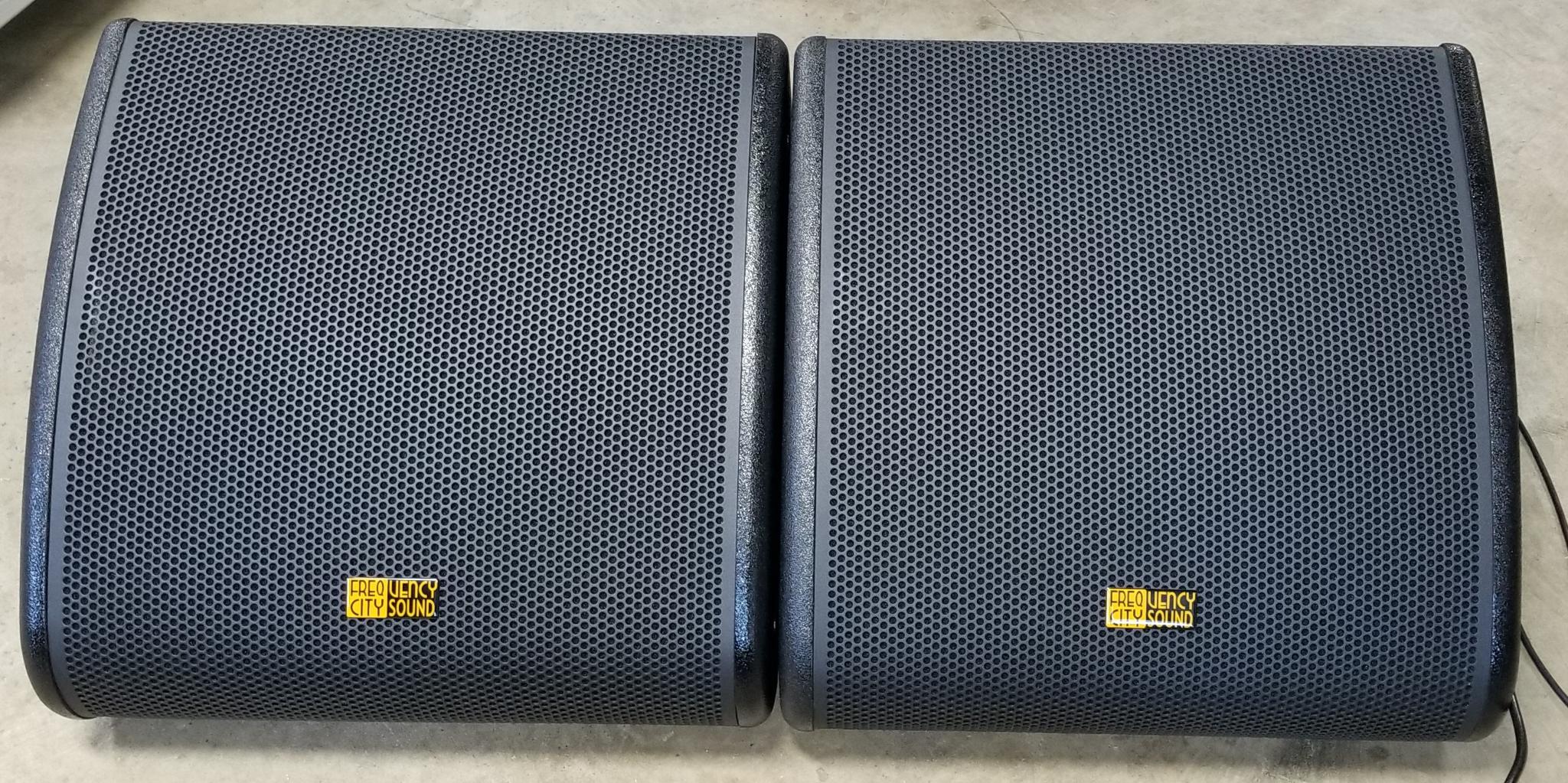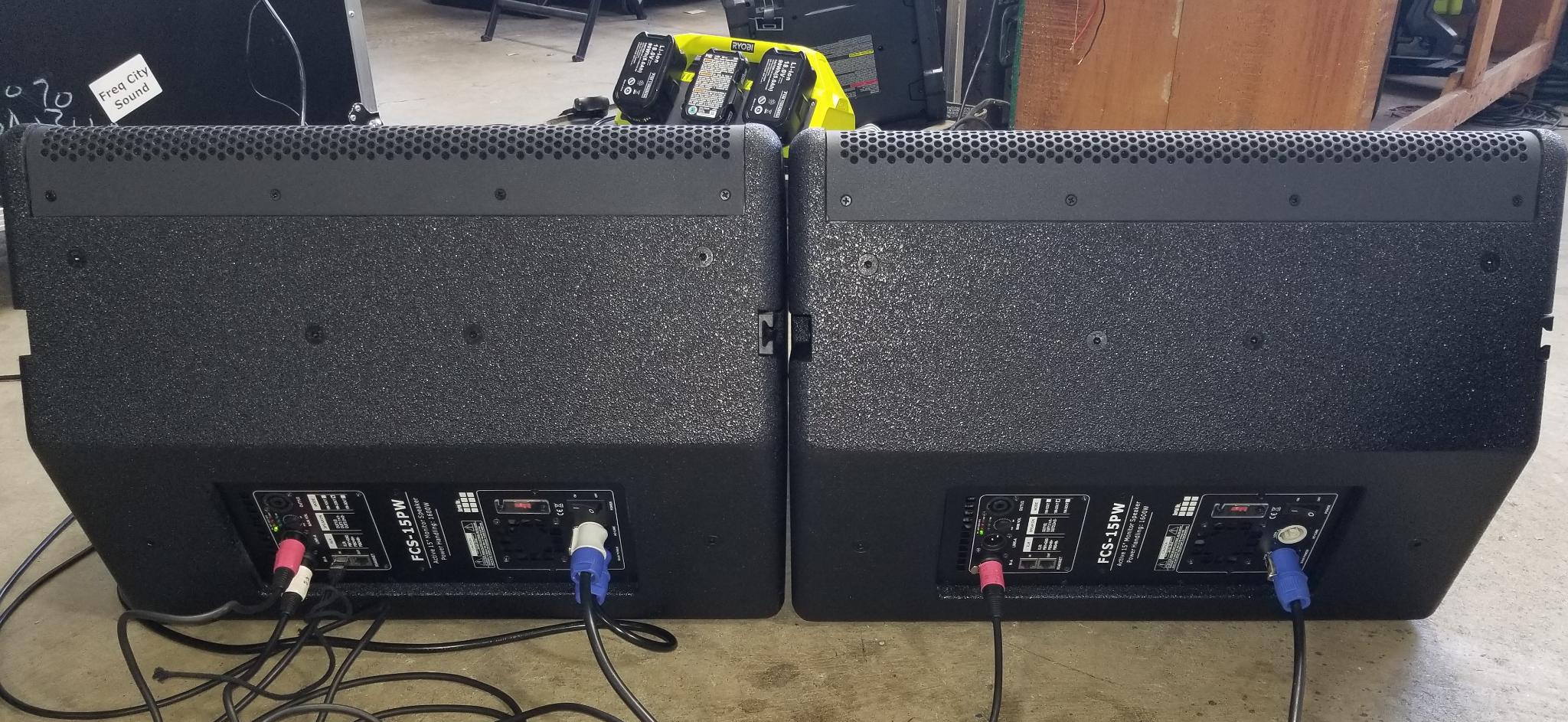 I've been designing and having speaker boxes built for 20+ years. These active wedges are the same we used on all of our live shows where wedges are requested. Dozens of 80 hair bands and grand old opry acts have worked with the wedges.

Being a singer, my vocal cut through well but also, the sound was very pleasing. Most of the time a singer doesn't actually like the sound of his voice. They keep thinking you can fix their brain by adjusting a knob. The FCS15PW will fix a lot of that.

I way overpowered the amp section for a couple reasons. One, more power never hurt me in the past. I'd rather be looking at it, than for it. Two, I'm using the same amp in my 2x12" & 2-2" horn line arrays also my 1X12" x 2" line arrays. Just seemed easier to have one amp for everything.

On the horn itself. Because of all the power available, I requested a 3" – 1.5" exit B&C style horn that will handle 220W continuous power. Combine that horn with the 300 available watts – you can really tear someone's face off. Most of what I'll address here is due to deaf performers. My goal was to make a wedge that when the talent says "Check" his next line is, "can you turn that damned thing down?"

Versatile: I had stand mounts put on both sides of the speaker box. The FCS15PW will also work great as a stand-alone speaker on a stand. There's rigging track built in that can be changed to either side of the box for arraying. Check to bottom of the page for arraying options in an install.

We have our program loaded into the wedges DSP at the factory. I had two high dollar sound guys to the warehouse to get consensus on the the DSP programing. Make sure to watch the Aaron Hacker video below. Most touring engineers will want a flat box that they can adjust to their performer's liking. Check the EQ output to the right with pink noise.

Warranty / Service / Parts
One-year warranty on the FSC15PW. I stock back up amps, horn diaphragms and full coax speaker systems. In the last 10 years, never had a repair.

Amp draws 10 amps maximum at 110V. As I mentioned earlier, this is the same amp that's in my
FCS2X12 Line Array There's NO WAY you'll ever pull the max 10 amps using this wedge.

FCS15PW On Stage with LA Guns Cinderella's Tom Kiefer Foghat
QUIET RIOT ON FCS WEDGES Aaron Hacker Claire Bros Audio Review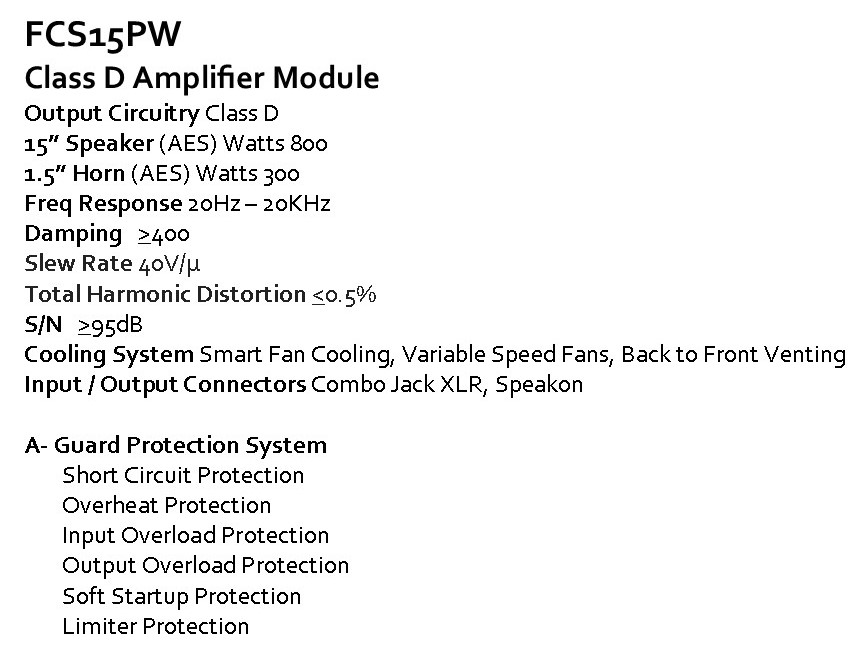 Used Clam Shell Road Cases for the FCS15PW $200 Used (my logo will be rolled over with black ink)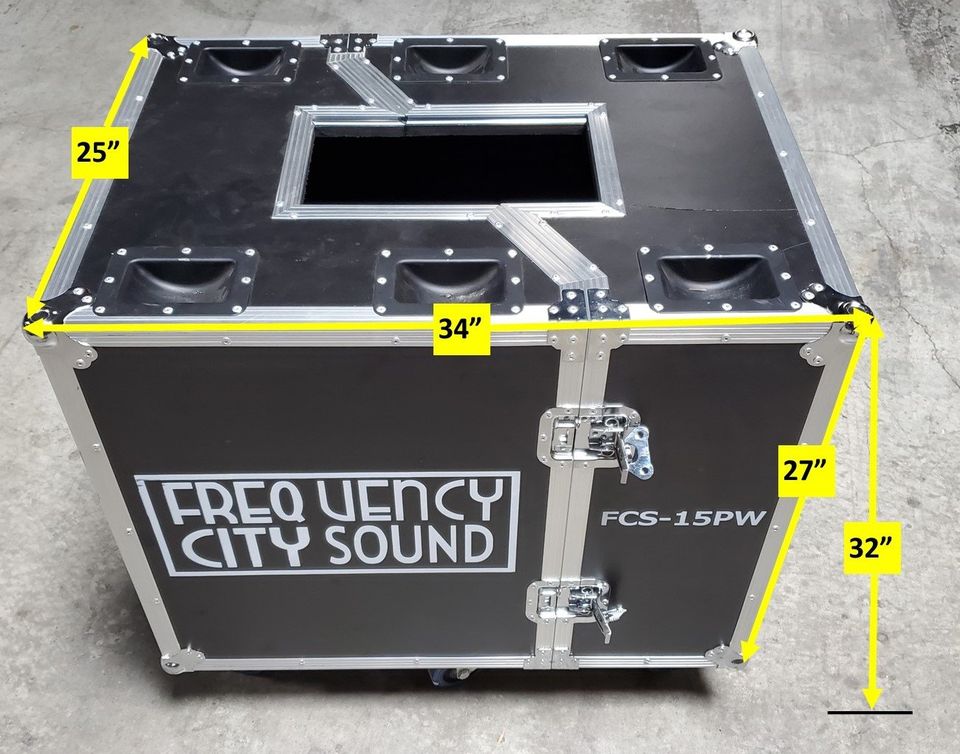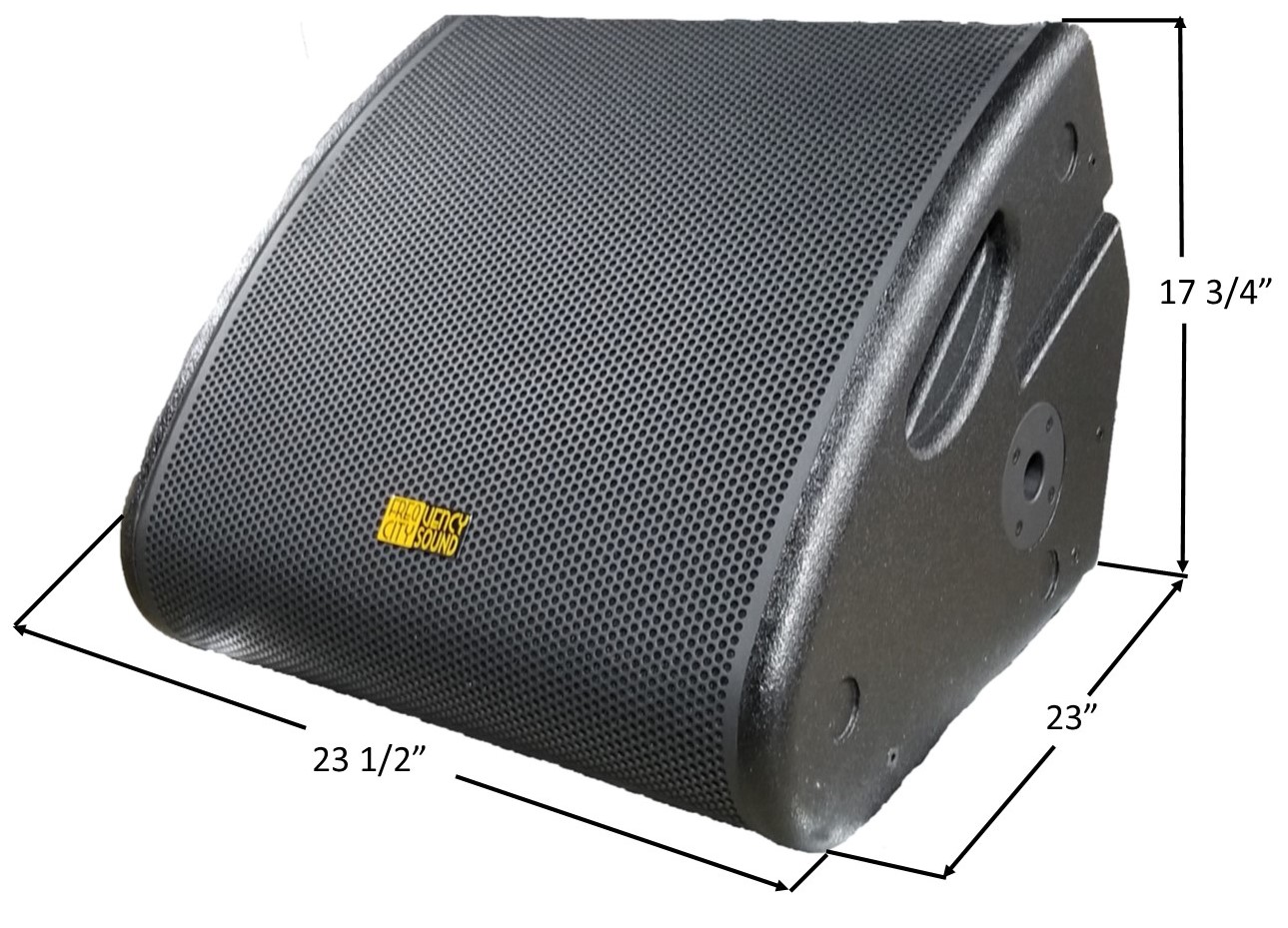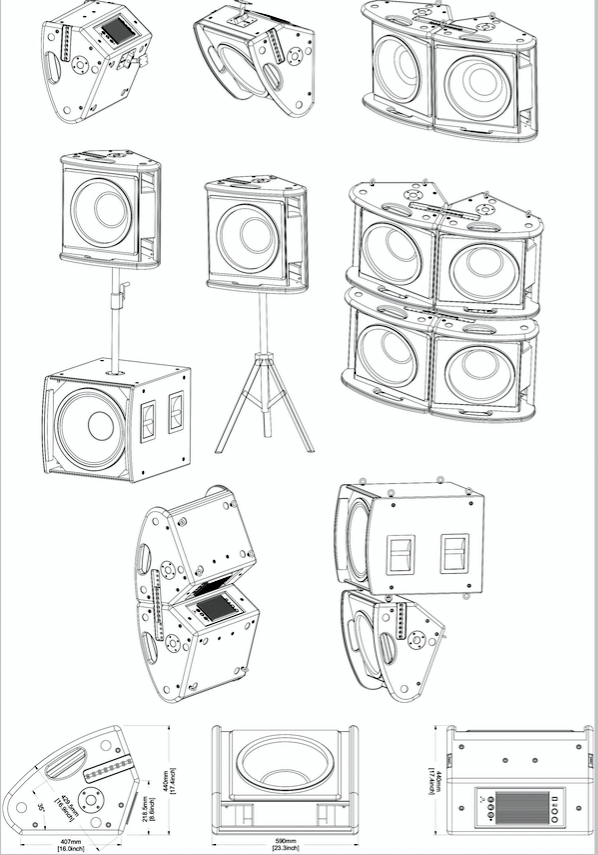 OTHER ACTIVE SPEAKER BOXES THAT MIGHT INTEREST YOU