In-Ear Monitor Antenna Distribution for Shure & Sennheiser Systems
OUT OF STOCK
In-Ear Monitor Paddle, Antenna, Combiner, Distribution for Mipro, Shure, Sennheiser or any IEM System operating in the 470~960MHz Frequency Range. NOTE: The AD808 does NOT send power to the IEM transmitters.
This IEM Combiner package will work with the Mipro MI909, Shure PSM900, PSM300 and the Sennheiser IEM-G4 In Ear Monitor Systems. In addition, any IEM system operating between 470MHz and 960MHz. This page is for Shure & Sennheiser Systems. For Mipro MI909 Packages, look under the MI909 page.
The Mipro systems use the TNC connectors that screw on. Sennheiser and Shure use the BNC style connection. Included in this package are Four TNC to BNC adapters. Also included will be the parts to rack mount and back to front antenna extension and rack front mounted antenna.
An optional antenna paddle & 32' TNC cable to the paddle.

Here's the scoop on the AD808 itself.
AD-808 is a half-rack size, 4-input, 1-output professional active antenna combiner. It operates between 470MHz~960MHz band and connects four Wireless In-ear monitoring transmitters to greatly improve RF performance and reduces chances for signal dropouts.
· 470~960MHz wideband.
· Up to four wireless transmitters can be combined into one transmitting antenna.
· Input Signal Indicator Threshold when input signal >+6dBm.
· Maximum RF input power +20dBm efficiency (100mW).
· Ideal intermodulation characteristic (full band performance +15dBm two-tone test, 3rd order IM<-57dBc).
Frequency Range 470~960MHz
Full System Gain 0 ± 2dB
VSWR Input / Output <1.5:1
Maximum RF Input Power +20dBm
Input Signal Indicator Threshold +6dBm
Power Consumption 9.12W (12V, 760mA)
Input / Output Connectors TNC female (4-input, 1-output)
Dimensions 8.3(W) x 1.7(H) x 8.1(D)
Weight 2.4lbs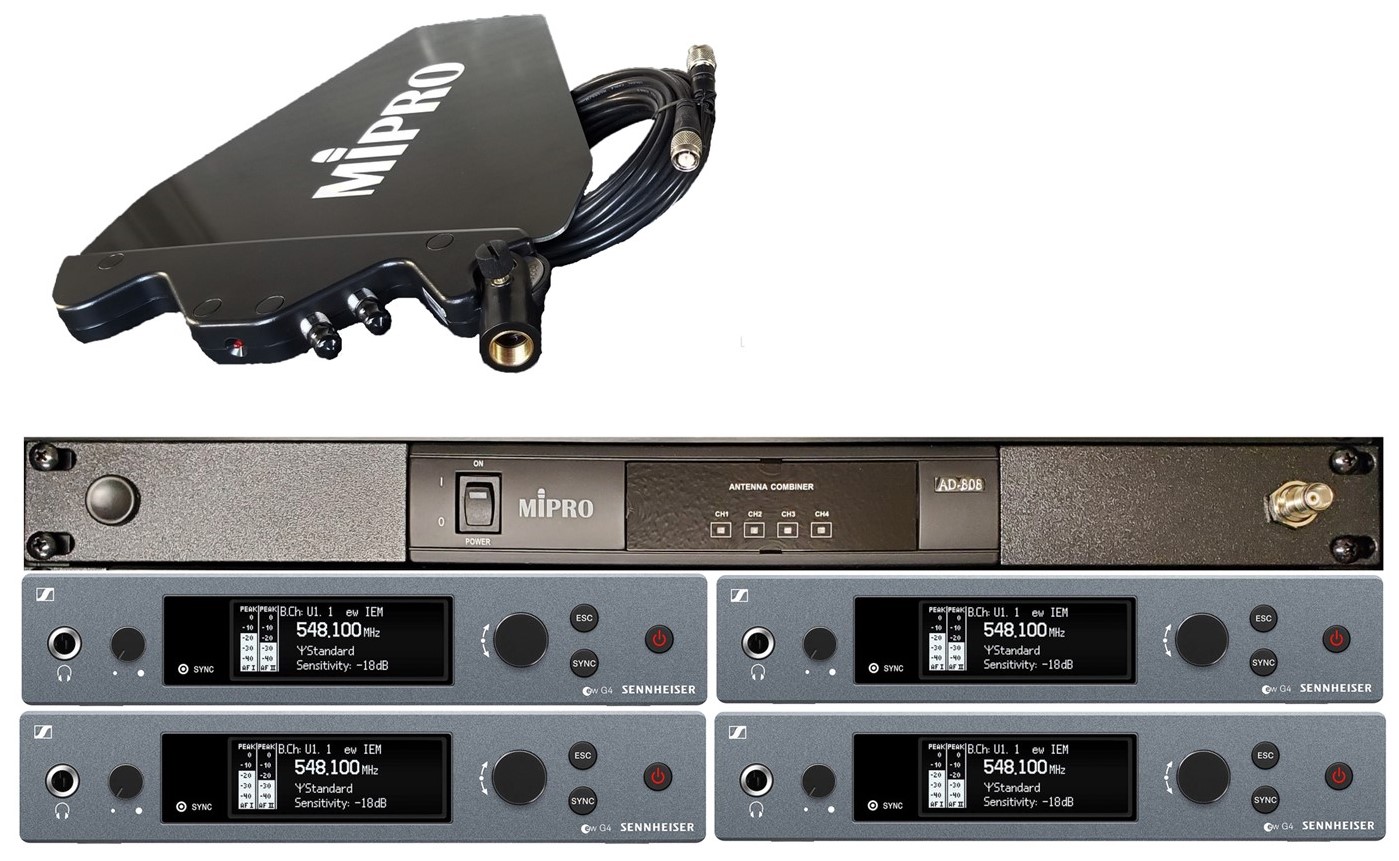 This package includes Combiner, all cables, adapters & rack parts
and a rack front mounted antenna. $495

Package includes Combiner, all cables, adapters & rack parts,
and a Paddle Antenna with 32' cable to reach it. $845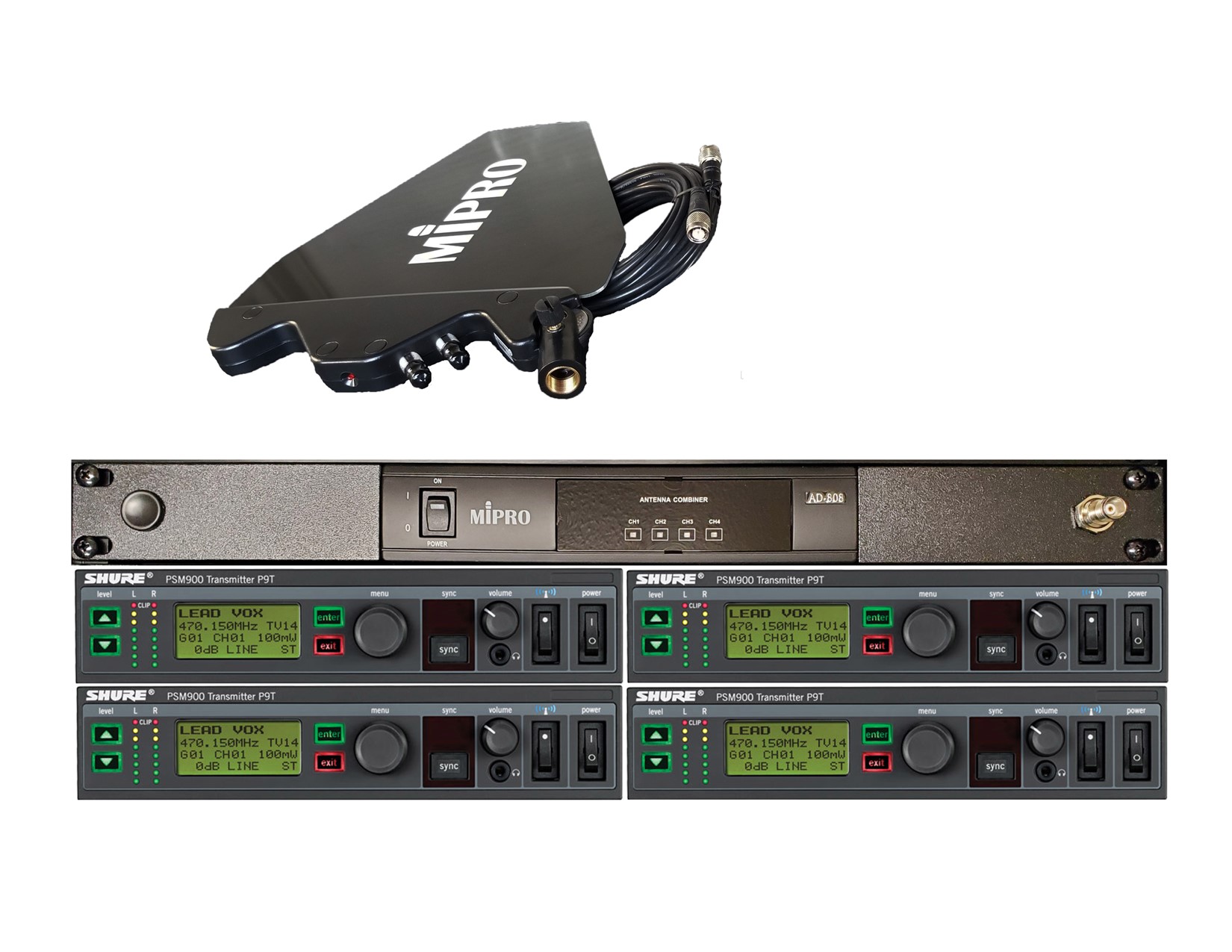 In-Ear Monitor System Antenna Distribution Package System for (8) Shure or Sennheiser IEM Transmitters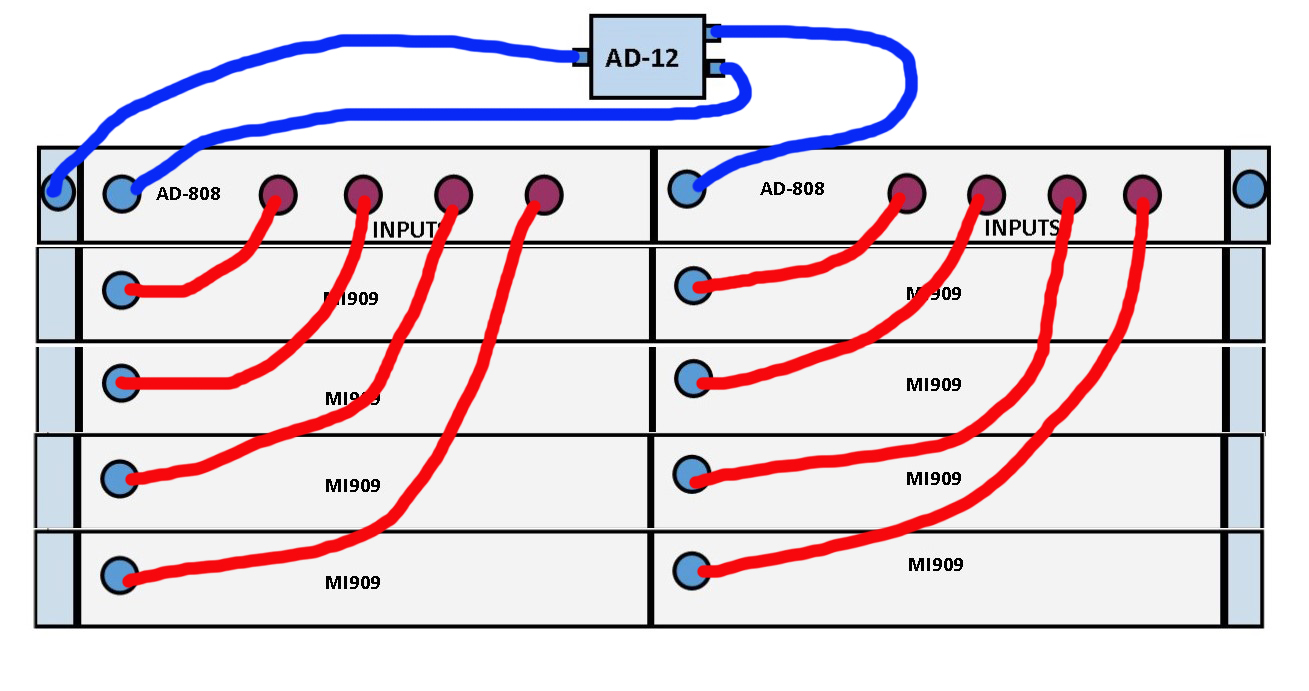 This package includes (2) Combiners, AD12 Antenna Splitter, all cables, adapters & rack parts to side by side mount
and a front of rack mounted antenna. $954

This package includes (2) Combiners, AD12 Antenna Splitter all cables, adapters & rack parts,
and a Paddle Antenna with 32' cable to reach it. $1,295.00